Look for ground chile pepper powder in the spice or Hispanic-foods section of your market. For sweet, mild flavor, use ground ancho chiles; for more heat, try caribe or smoky chipotle. Serving tips: Keep this well chilled while transporting. For best flavor and presentation, take ground chile in a separate container and sprinkle over salad just before serving.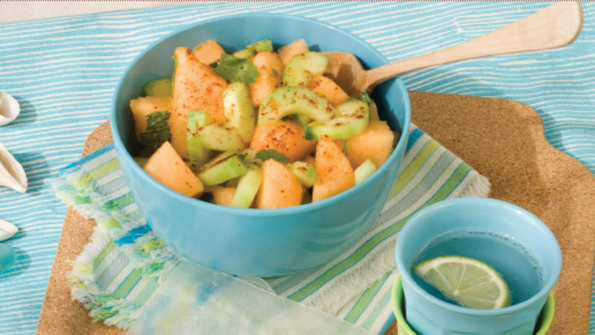 Cut cucumber in half lengthwise and discard seeds. Cut cucumber into 1/4-inch slices; then mix in a bowl with cantaloupe, mint, lemon juice, and olive oil. Add a few pinches of salt to taste. Chill thoroughly. Sprinkle with chile powder just before serving.
Nutrition Facts
Cucumber-Melon Salad
Amount Per Serving
Calories 83
% Daily Value*
Sodium 21mg 1%
Total Carbohydrates 12g 4%
Protein 2g 4%
* Percent Daily Values are based on a 2000 calorie diet.
PER SERVING: 83 cal, 39% fat cal, 4g fat, 1g sat fat, 0mg chol, 2g protein, 12g carb, 2g fiber, 21mg sodium