"Salt Lake Magazine recognized this salad as one of the best in the state, and it's easily our most requested recipe," say Jen and Blake. "We top our salad with seasonal fruit from local orchards. As always, the freshest, locally grown, organic ingredients make a world of difference."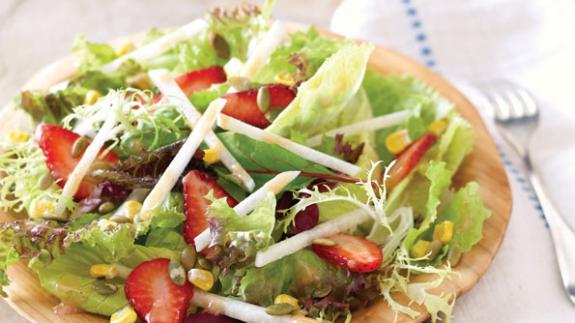 1/2

cup

red wine vinegar

1/4

cup

honey

1/4

teaspoon

Dijon mustard

3/4

teaspoon

ground star anise

1

teaspoon

Chimayo red chile powder

1/4

teaspoon

salt

1

cup

organic canola oil

3-4

cups

romaine hearts, torn into small pieces

3-4

cups

garden spring mix

1/2

cup

jicama, sliced into matchstick-sized bits

1 1/2

cups

toasted pepitas

hulled pumpkin seeds

1/3

cup

super-sweet dehydrated corn

or use fresh cooked corn kernels

1/2

cup

sliced fresh strawberries
1/2

cup

red wine vinegar

1/4

cup

honey

1/4

teaspoon

Dijon mustard

3/4

teaspoon

ground star anise

1

teaspoon

Chimayo red chile powder

1/4

teaspoon

salt

1

cup

organic canola oil

3-4

cups

romaine hearts, torn into small pieces

3-4

cups

garden spring mix

1/2

cup

jicama, sliced into matchstick-sized bits

1 1/2

cups

toasted pepitas

hulled pumpkin seeds

1/3

cup

super-sweet dehydrated corn

or use fresh cooked corn kernels

1/2

cup

sliced fresh strawberries

Print Recipe
Combine vinegar, honey, mustard, spices, and salt in a blender. With machine running, slowly drizzle in oil. Whirl a minute to combine. This dressing will keep for 10 days in the refrigerator.

Build the salad on individual plates in the order the ingredients are listed. Drizzle each with about 1 tablespoon dressing and serve.
Nutrition Facts
Backbone house salad
Amount Per Serving
Calories 337
Calories from Fat 189
% Daily Value*
Total Fat 21g 32%
Sodium 139mg 6%
Total Carbohydrates 28g 9%
Protein 12g 24%
* Percent Daily Values are based on a 2000 calorie diet.
PER SERVING: 337 cal, 21g fat (10g mono, 8g poly, 3g sat), 0mg chol, 12g protein, 28g carb, 5g fiber, 139mg sodium