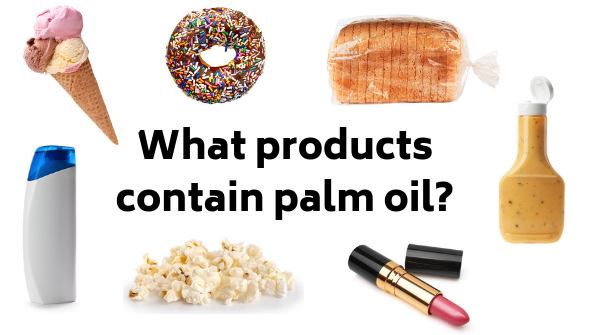 Ingredients that contain the word palm are the easiest way to spot palm oil in products. But, there are more than 200 ingredients that contain or are derived from palm oil, as detailed at palmoilinvestigations.org. Palm oil is commonly found in some:
Bread
Breakfast bars
Cakes and cake mixes
Candy
Cereals
Chocolate
Cookies
Crackers
Doughnuts
Dry and canned soups
Frozen meals and pizza
Frozen waffles and pancakes
Ice cream
Imitation cheese
Infant formula
Margarine and vegetable oil spreads
Microwave popcorn
Nondairy creamers
Peanut butter
Salad dressings
Snack foods
Toaster pastries
Vegetable shortening
Nonedible uses of palm oil include:
Biofuel
Candles
Cleaning products
Cosmetics
Detergents
Shampoo
Skin moisturizers and lotions
Soap
Sunblock
Toothpaste
Learn all about the pros and cons of palm oil here.