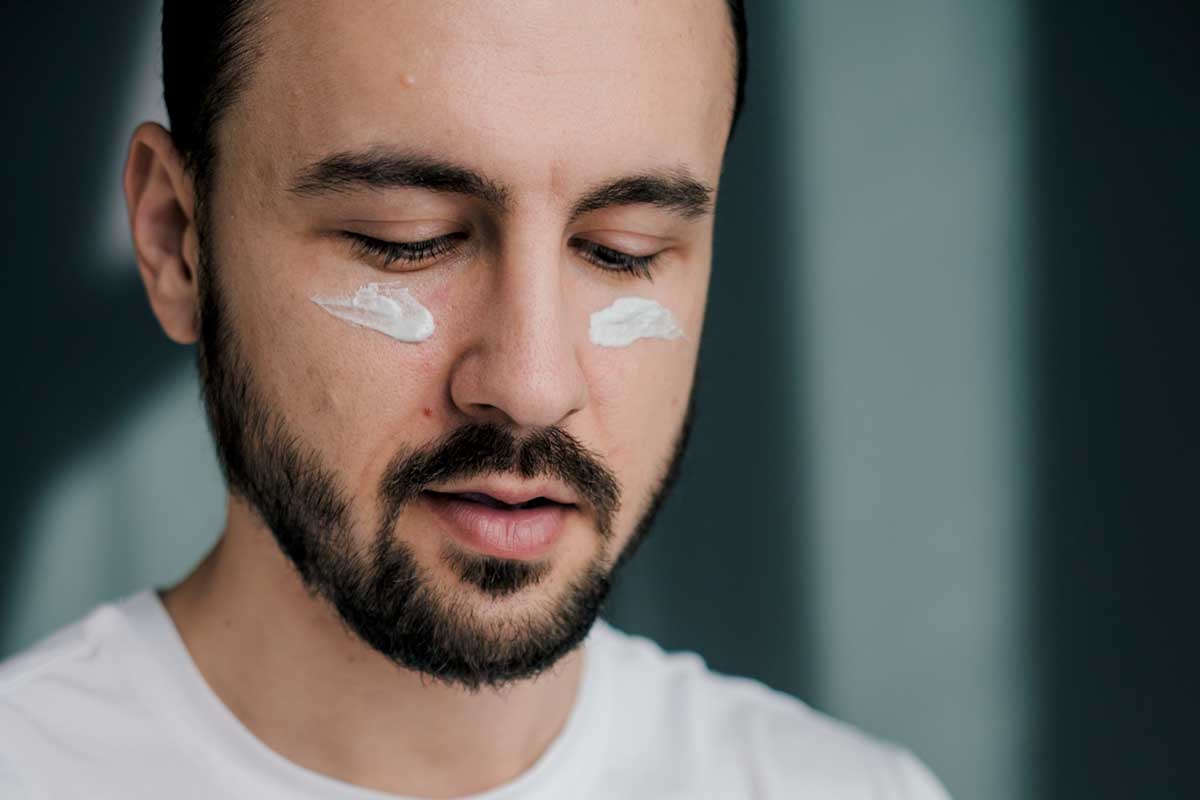 We've come a long way since skin care was mostly considered a feminine ritual. According to Future Market Insights, the men's skincare market is projected to grow from $13,572.6 million in 2022 to $28,244.8 million in 2029, not to mention there's a rising demand for natural and organic products. If you haven't yet jumped on the bandwagon, it's time to add skin care to your self-care ritual. Think of it as skin fitness—and you'll be committed in no time.
The Difference Between Male and Female Skin
Aside from the fact that men tend to have considerably more facial hair, there are some key underlying differences between male and females. According to research, males typically produce more oil (also known as sebum) due to their differences in sex hormones. On top of that, males tend to have thicker skin, and also experience more pigmentation, deeper wrinkles, and eyelid sagging.
Men's Daily Skincare 101
In a poll of about 1,000 men, a third of respondents reported not washing their face every day. Yikes! Although skin care is important for all, men have unique needs that require everyday care.
Given the biology of their skin, it's not uncommon for males to experience acne and oiliness. Regular shaving also might cause redness, irritation, and sensitivity. These specific issues make it all the more crucial to select targeted skincare products.
Cleanser
Wash your face every morning, evening, and any time after you exercise. Use a gentle, alcohol-free cleanser that doesn't make you feel too "squeaky clean" or tight. If your skin barrier (uppermost layer) is disrupted, it can exacerbate skin conditions.
Moisturizer
Moisturize every morning and night, and make sure your skin is still damp after cleansing or shaving when you apply. Because men tend to shave more often, find a moisturizer that will nourish and strengthen the skin barrier, such as those containing emollients and natural ingredients like niacinamide.
Sunscreen
Apply sunscreen every morning and reapply every two hours. According to the Skin Cancer Foundation, using a broad-spectrum sunscreen of at least SPF 15 can lower your risk of squamous cell carcinoma by about 40 percent and melanoma by 50 percent. It can also help reduce the visible signs of sun damage, including fine lines, wrinkles, dark spots, and loose, sagging skin.
Why natural?
There's a growing demand for natural and organic ingredients in men's skin care—and that's great news! While not all natural ingredients are automatically safe (think poison ivy), those that are studied to be safe work harmoniously with the body—without posing health risks like cancer, reproductive and neurological harm, and developmental delays.
Don't get duped by misleading labels. The Food and Drug Administration has never defined "natural," for instance, and does not regulate its use on marketing claims for skin care. To be sure you're getting what you asked for, read the full ingredients list.
Remember, the skin is the largest organ of the human body. Skin care, therefore, is not simply a matter of beauty, it's a matter of health. Think of every pump of product as a different exercise at the gym. The more you commit, the healthier you'll be today, tomorrow, and long into the future.
Mole check 

The American Academy of Dermatology states men are more likely than women to get melanoma, so it's critical to get moles checked regularly.  The Skin Cancer Foundation says there's a 99 percent five-year survival rate for US patients whose melanoma is detected early. Trust the ABCDE method:

Asymmetry: when two halves of the mole aren't equal

Border: uneven, scalloped, or notched edges

Color: moles with more than one uniform color

Diameter or dark: moles more than 1/4 inch in diameter or anomalously dark

Evolving: any change in size, shape, color, or elevation
According to the American Society of Plastic Surgeons, botox, microdermabrasion, and chemical peels are some of the top facial procedures for men. Adding serums to your skincare ritual can help reduce or even stave off regular cosmetic procedures, particularly for milder issues.

Serums, which are topical, are akin to extra supplements you add to a protein shake—they help target specific areas of concern, like dullness, wrinkles, and dehydration. Layered after cleansing and under moisturizer, serums are highly concentrated with active ingredients. Look for serums with these superstar ingredients from nature:

Kakadu plum contains the highest levels of vitamin C of any fruit, making it the perfect ingredient to help brighten and protect skin.
Bakuchiol, an extract from the Psoralea corylifolia plant, is known to combat photo-aging and discoloration just as effectively as retinol.
Marula oil offers all possible moisturizing benefits, including hydration and occlusion, veiling skin with intense comfort and moisture.