Ready to face the chill? Check your skincare labels for these superheroes—and don't forget supplements.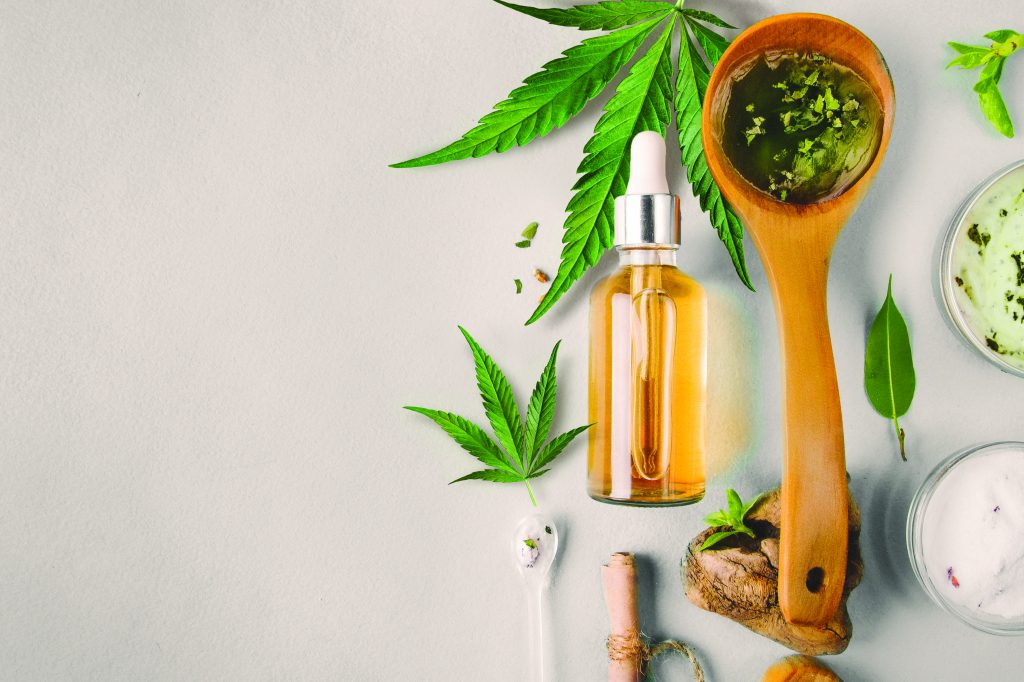 A cold, blustery winter can really take your skin by storm. Dropping temperatures zap humidity from the air, leaving skin dry and flaky. And when you lose that precious moisture, redness and itchiness can surface too.
Luckily, nature has a way of helping us out when we need it most. When it comes to winter skin woes, it's time to tap into powerful, naturally occurring ingredients that soothe and protect.
You can reap the rewards of the following five key ingredients, no matter your age, sex, or skin type. Look for them in skincare products and, if you like to eat your benefits, in food or supplement form.
Collagen
Our own bodies produce this natural structural protein, but as we age, we lose it. While responsible for healthy joints and bones, collagen also supports smooth, firm, and strong skin. That's especially important in winter to combat sallowness and restore a healthy glow. Look for moisturizers and serums with collagen peptides—this is hydrolyzed (partially broken-down) collagen, which is easier for the skin to absorb.
Double down: In addition to using it topically, you can take collagen in supplement form or eat it in protein-rich foods like bone broth and pork skin. You'll be yet another step closer to stronger skin with healthy elasticity.
Hyaluronic acid
This is a naturally occurring sugar produced by the body, and it plays the important role of retaining water, lubricating tissues, and keeping skin nice and firm. Because the cold winter air is a big moisture-sucker, adding hyaluronic acid to your skincare routine is essential. Grab moisturizers, face mists, and even foundations infused with hyaluronic acid.
Double down: Taking hyaluronic acid supplements is another way to get a moisture boost and possibly even reduce wrinkles.
Green tea
Easy-to-find green tea is full of antioxidants and phytonutrients that put up a fight against inflammation. To soothe redness and itchiness, consider adding green tea to your beauty routine. Face masks and scrubs formulated with green tea extract are both relaxing and ritualistic, offering relief and a nice brightening effect.
Double down: Sip your skin troubles away! As a bonus, know that drinking green tea has been linked to lowering the risk of cancer (due to its powerful antioxidants). Don't fancy the taste of green tea? Try green tea extract supplements.
Oatmeal
Oatmeal is a common ingredient in exfoliating scrubs. The mealy texture of this grain is a natural exfoliator, helping slough off dead skin cells to reveal a smoother, brighter complexion. If it's relief from red, itchy skin that you want, look for creams, masks, and bath products made with colloidal oatmeal, which is simply finely milled whole oat kernels. Colloidal oatmeal is anti-inflammatory and can help with eczema, rashes, and redness.
Double down: Enjoy breakfast with benefits. Eating oatmeal and other whole grains may benefit your skin because they are great sources of prebiotic fiber, which feeds the beneficial bacteria in your gut. Good gut health is linked to good skin health!
CBD oil
This "it" ingredient, derived from the hemp plant, wins praise for its anti-inflammatory properties. Now, early research shows it may help with winter flare-ups of eczema or psoriasis. Put a good CBD-infused moisturizer on your list, and give yourself extra credit (and relief) if it also features nourishing oils like jojoba, borage seed, and virgin coconut.
Double down: Taking hemp-derived CBD oil supplements may provide other anti-inflammatory and health-boosting benefits that go beyond the skin. CBD interacts with the body's endocannabinoid system, which is responsible for regulating sleep, mood, appetite, and immune function.
Layer your skin care
You bundle up with clothing—so why not give your face the same protection? Here's a routine to try. Each step gives you different, good-for-you coverage.
Cleanser: Use a cream formula, which is easier on winter skin because it has more nourishing natural oils.
Serum: Smooth in some vitamin C. The common serum ingredient can improve your skin tone and texture.
Moisturizer: In addition to hyaluronic acid, look for moisturizer with ceramides, naturally occurring lipids that reinforce your skin's barrier.
Foundation: To smooth out your look, use base makeup formulated with hydrating ingredients like hyaluronic acid, aloe vera, glycerin, and squalane.
Sunscreen: As a finishing touch, layer on mineral sunscreen, which contains natural minerals like zinc oxide to protect your skin from UV rays.