Here's a delicious method to tenderize chicken that's simple to boot! This dish is also great for a crowd—simply double or triple the recipe. (P.S. Use any remaining beer to wet your whistle while you work over the barbecue.)

Honeyed BBQ Chicken Kebabs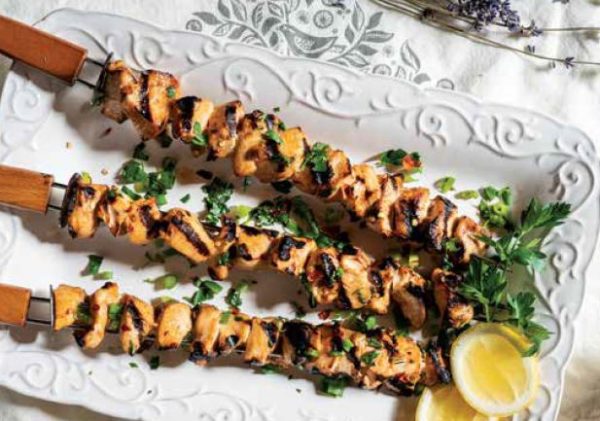 1

cup

wheat beer

1/4

cup

honey

3

Tbsp

low-sodium tamari or soy sauce

1

Tbsp

grapeseed oil

2

large garlic cloves, smashed and minced

1

tsp

grated orange zest

1 1/2

tsp

ground cumin

1/2

tsp

smoked paprika

3

organic chicken breasts, skinned and boned

1

Tbsp

fresh lemon juice

2

Tbsp

finely chopped flat-leaf parsley

2

Tbsp

finely chopped cilantro

Lemon wedges for garnish

Sliced green onions and crushed chilies (optional)
1

cup

wheat beer

1/4

cup

honey

3

Tbsp

low-sodium tamari or soy sauce

1

Tbsp

grapeseed oil

2

large garlic cloves, smashed and minced

1

tsp

grated orange zest

1 1/2

tsp

ground cumin

1/2

tsp

smoked paprika

3

organic chicken breasts, skinned and boned

1

Tbsp

fresh lemon juice

2

Tbsp

finely chopped flat-leaf parsley

2

Tbsp

finely chopped cilantro

Lemon wedges for garnish

Sliced green onions and crushed chilies (optional)

Print Recipe
In medium bowl, combine beer, honey, tamari or soy sauce, oil, garlic, orange zest, cumin, and paprika. Whisk together until blended.

Cut boneless chicken breasts into 1 inch cubes. Stir chicken cubes into marinade until evenly coated. Cover and refrigerate for at least 2 hours, preferably overnight.

Soak wooden skewers for at least 30 minutes before threading chicken. Thread 4 to 5 chicken cubes onto each skewer. Reserve marinade.

Grease barbecue grill and preheat to medium-high. Grill chicken kebabs for 5 to 8 minutes, turning several times and brushing with remaining marinade. Chicken is done when meat thermometer placed in thickest portion of meat reads 165 F.

Transfer to platter and drizzle with lemon juice. Scatter parsley and cilantro over top. Garnish with lemon wedges, as well as green onions and crushed chilies if using.
Per serving: 178 calories; 20 g protein; 4 g total fat (1 g sat. fat); 19 g total carbohydrates (15 g sugars, 0 g fiber); 316 mg sodium