This velvety, dairy-free mousse is healthy enough to eat every day. One dish will feed two people after dinner—or one very hungry person. Serving tip: On cool spring evenings, it's delightful served warm. Ingredient tip: When fresh raspberries are out of season, use frozen, gently thawed berries.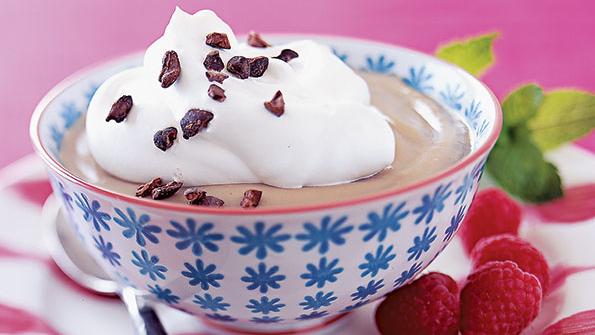 Combine soy milk and cocoa nibs in a small saucepan; bring to a gentle simmer over medium-high heat and cook for 1 minute. Remove from heat, cover, and let stand for 25 minutes. Strain into a bowl, pressing nibs with the back of a spoon to extract liquid. Discard nibs and set liquid aside.

In a heavy saucepan, combine honey, cornstarch, and salt, mixing to form a smooth paste. Slowly stir in cocoa nib infusion, mixing until smooth. Cook over medium heat, stirring constantly, until mixture begins to thicken, 3-4 minutes. Reduce heat and stir in puréed tofu. Cook for 2 minutes longer over medium-low heat, until thick and creamy.

Transfer to four 1/2-cup ramekins. Refrigerate for several hours. Just before serving, top each mousse with a dollop of whipped topping, if desired, and garnish with berries and cocoa nibs.
Nutrition Facts
Cocoa Nib Mousse
Amount Per Serving
Calories 184
% Daily Value*
Sodium 9mg 0%
Total Carbohydrates 25g 8%
Protein 6g 12%
* Percent Daily Values are based on a 2000 calorie diet.
PER SERVING: 184 cal, 35% fat cal, 7g fat, 3g sat fat, 0mg chol, 6g protein, 25g carb, 4g fiber, 9mg sodium