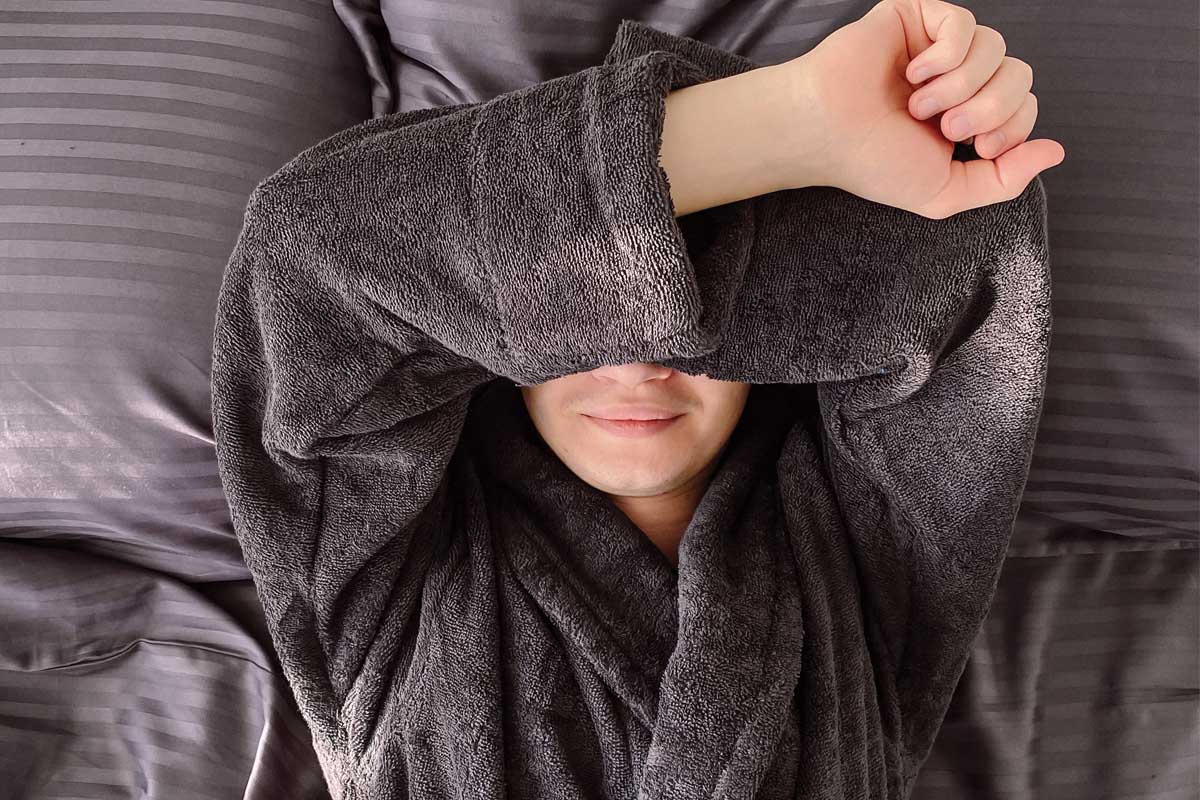 From brain function to energy to mood, sleep affects nearly every bodily process, so it should come as no surprise that sleep and beauty are also inextricably linked. Both a rosy complexion and bright eyes are impacted by how many hours you log in bed. Here, learn why restorative sleep is crucial for your health and beauty and how to build a bedtime routine that sets you up for a successful night of slumber.
The science of sleep
Sleep seems pretty straightforward: get at least seven hours—the minimum recommended amount for adults—and wake up feeling refreshed. While the act of sleep may feel passive, there's actually a lot going on behind closed eyes.
Sleep is broken down into four stages that make up a cycle: three non-rapid eye movement (NREM) stages and one rapid eye movement (REM) stage. Throughout each cycle, which lasts about 90 minutes, you transition from light to deep sleep. It's crucial to get four to six complete cycles every 24 hours—not just for the sake of your brain, but for your outward appearance, too.
The truth about beauty sleep
It's called beauty sleep for a reason. Getting enough zzzs may be the most impactful part of your beauty routine to achieve a true "I woke up like this" look.
One study of both well-rested and sleep-deprived participants found that the participants getting more restful sleep were perceived by others as more awake, as having less puffy eyes with smaller undereye circles, and as having a healthier-looking complexion. They even appeared happier than the sleep deprived group.
Fewer fine lines and wrinkles are another reward of quality slumber, since adequate sleep has been connected to the protection of collagen, which supports skin elasticity.
Aside from its effects on outer appearance, a good night's sleep can also make you feel more beautiful from the inside out, as those who sleep well actually feel more positive about their appearance than those who have trouble getting enough shut-eye.
And the consequences of less than seven hours of sleep go beyond skin deep. Those who are chronically sleep deprived are more likely to experience symptoms of mental distress, weakened immunity, inflammation, and a lack of optimism and self-esteem. Physically, this may present as skin breakouts, as well as illnesses and infections.
Build a better bedtime
A good night's sleep can start making a difference in your physical appearance in as little as one day. The key to restorative shut-eye begins with a consistent bedtime routine that signals to your brain that it's time to sleep.
Take a bath. When your body temperature rises and then drops, such as when you get out of a warm bath, you're more likely to feel sleepy.
Pick a bedtime and stick to it. This "trains your brain" to feel sleepy when it's time to hit the hay.
Read a book, journal, or meditate to calm your mind. Banish all electronics from the bedroom, as blue light suppresses melatonin.
Create an ideal sleep environment. Set your bedroom to a comfortable temperature—between 60 and 67 degrees—use a white noise machine to cover sleep-disrupting sounds, and keep lights dim while you prep for bed.
Get into the habit of preserving your bedroom as a sleep sanctuary so that's what your brain associates the space with when it's time to drift off to dreamland.
Overtime, as you start setting a bedtime routine with your favorite wind-down activities, it's likely you'll start looking forward to your comforting ritual each night, and to the healthy glow the next morning.
Rx for zzzs

They say sleep is the best medicine, but that's a hard pill to swallow for those who struggle with slumber. If you're in need of a pre-bedtime dose of drowse, consider incorporating these natural supplements—available as pills, edibles, lotions, and beverages—into your nighttime routine.

Magnesium. Magnesium supplements can make it easier to fall asleep, improve sleep quality, and reduce symptoms of restless leg syndrome by helping regulate the sleep-related messages sent between the brain and body.

CBD. Cannabidiol, the cannabis compound that doesn't make you high, is often used to ease anxiety and pain, thus improving sleep quality.

Herbs. Herbs like chamomile and lavender have been proven to induce sedation and sleep. Brew them into tea for a relaxing nightcap.

Melatonin. Melatonin is produced naturally by your body, but if you're suffering from insomnia, you can give your brain a boost of the hormone with supplements that may help you fall asleep faster.
Sleep scents

In addition to supplements, consider aromatherapy to aid with sleep. Essential oils work by stimulating the brain's release of neurotransmitters like dopamine and serotonin, which make you feel calm and produce melatonin.

Lavender, chamomile, and sandalwood are touted for their sedative effects, while bergamot can lower your heart rate and blood pressure, and jasmine may help with restless sleeping. All are known to incite relaxation and reduce anxiety, encouraging you to fall asleep, stay asleep, and get better sleep quality.

Simply add a couple drops of your chosen essential oil into a diffuser—nebulizing, ultrasonic, heat, and evaporative are common types—and allow the scent to lull you into a deep slumber.
Pillow talk

If you're logging enough zzzs but not getting the beauty results you want, the problem might be with <how> you're sleeping: get into the habit of lying on your back rather than your stomach or side to help reduce wrinkles.