Can you get through a meal without checking your phone? How about a whole Sunday afternoon? No? Here's how to change that.
How long can you go without looking at your phone? And how much time do you spend on it—and other devices—every day?
Probably more than you think. Many people underestimate the amount of time they spend plugged in. The truth is that average cellphone users fill between 2.42 and 5 hours per day on their devices.
According to Tracey Delfs, a mindfulness teacher and coach, "With 1,440 minutes given to us each day, we need to be mindful about how we are using each of these precious moments."
lthough limiting tech time overall is important, Delfs stresses that mealtime and bedtime should always be "no technology zones." To help keep everyone in the family accountable, set up a box where everyone can dump their devices before meals and lights-out.
Now is the perfect time to dial back your digital dependence. But instead of expecting yourself (or your partner or kids) to unplug with no alternative diversions, suggest new activities. Here are some easy and really quite delightful ways to enjoy moments unplugged.
Mealtime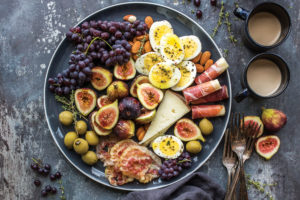 Going solo: Although it's tempting to answer emails over lunch, eating mindfully leads to feeling full for longer. If weather permits, head outside and enjoy the sights and sounds of nature as a side to your salad.
For couples: A recent study found that many partners believe technology interferes with their quality time together—including at mealtime. Tuck your devices at home and try out a new recipe or restaurant, focusing on conversation without distraction.
For families: Research has supported what parents know intuitively: Unplugged family meals are important for kids' health and development. To help kids feel more invested in family meals, involve them in meal planning and preparation.
Do you have …
"Nomophobia"? (No-mobile phobia)
"Textiety"? (The anxiety of feeling pressured to respond immediately to text messages)
"Phantom Cell Syndrome"? (This false sensation of receiving a text or phone call is also known as "phantom ringing," "phantom vibrations," or "FauxCellArm.")
Between 27 and 89 percent of cellphone users report these experiences. The best way to prevent these modern-day maladies is—surprise!—to unplug.
Bedtime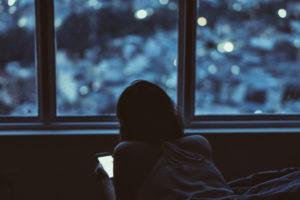 Going solo: To help you settle into slumber, power down at least a half-hour before bedtime, and try reading, journaling, or meditating to unwind.
For couples: Rather than side-by-side texting before turning out the lights, try out therapeutic massage. One study found that married couples who engaged in "warm touch" massage for a month showed decreases in stress hormone levels and increases in oxytocin (the hormone known to facilitate bonding).
For families: Bundle up and do some evening stargazing. Without the glow of a digital device, see how many constellations you can spot together during winter's bright, clear nights.
Vision vitamins and more
Cutting back on screen time is just one way to prioritize your peepers. Talk to your health care practitioner about these supplements, which can support healthy eyes:
vitamin C
vitamin E
zinc
lutein
zeaxanthin
Leisure time
Going solo: Be a tourist in your own city—check out that museum you've only ever walked by or take that trail walk or cross-country ski you've been meaning to do. You'll be surprised by what you can discover in your own backyard!
For couples: Try a tandem bike ride to challenge your balance and improve your teamwork. Not exactly bike weather where you live? Go tobogganing together. For some extra cardio, race each other back to the top of the hill after each thrilling descent.
For families: Use whatever items you have on hand—hula hoops, ropes, and chairs, to name a few—and build a backyard obstacle course. Grab a stopwatch and time the kids … and the adults too!