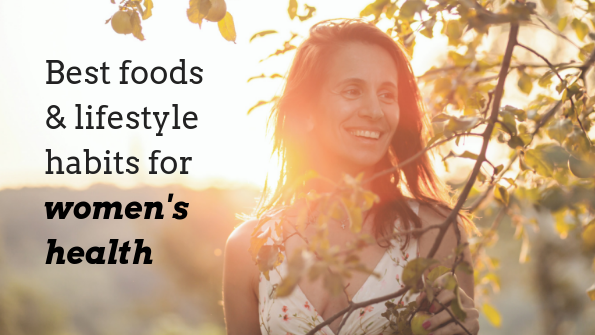 Knowledge is power when it comes to the leading women's health issues, such as heart disease, breast cancer and infertility. When you understand the role of your diet, lifestyle and other factors in these conditions and put recommendations into practice, you're in a much better position to prevent or beat common health issues.
Luckily, what's good for one aspect of health—such as eating plenty of colorful vegetables, berries, healthy fats and high-quality, clean proteins—will likely help other aspects of your health, too. You'll see that here as you read experts' diet and lifestyle advice for common health concerns of women.
CHALLENGE: HEART DISEASE & STROKE
Heart disease and stroke are the number-one and number-three causes of death, respectively, for American women. "A woman's risk for heart disease and stroke goes up dramatically after menopause, quickly becoming equal to that of a man at the same age," says Mark Houston, MD, director of the Hypertension Institute in Nashville, Tennessee, and author of What Your Doctor May Not Tell You About Heart Disease (Grand Central Life & Style, 2012).
What to do: "Avoid white foods, such as plain white rice and bread (but not cauliflower, fish, mushrooms and white beans) and sodas and other sugar-sweetened foods," Houston says. "These high-glycemic-index and refined carbs can raise triglycerides, increase plaque formation in arteries and cause inflammation of arteries, particularly in your heart."
What about fat? "Traditionally we were taught that saturated fats are a primary dietary risk factor for heart disease, but new research suggests they play a smaller role compared to refined carbohydrates," Houston says. "Still, you should limit saturated fat and avoid trans fat."
To support heart health, Houston recommends taking a high-quality omega-3 fish oil supplement, as well as supplements of coenzyme Q10 (coQ10), curcumin, odorless aged-garlic extract and the MK-7 form of vitamin K2.
What to eat: Houston recommends a Mediterranean-style diet, including EVOO and eating 10 to 12 servings of colorful veggies and fruits daily, with the majority being vegetables. Fruit should be mostly berries, such as blackberries and blueberries. If you eat meat, opt for organic, and eat wild-caught omega-3-rich fish, such as salmon and sardines.