There's no need to give up your green-living goals <or> spend a fortune to create a whimsical and festive tablescape for the holidays. To dazzle guests and create a beautiful and sustainable holiday table, get inspired by these DIYs that make use of items you likely already have.
Greenery chandelier
Use chicken wire to sculpt a base for your chandelier, and stuff it with natural greenery such as cedar boughs and/or holly from your backyard. No yard? Greenery can often be purchased from a florist (or ask a friend who has a backyard!). Use S-hooks and a chain or rope to hang the chandelier.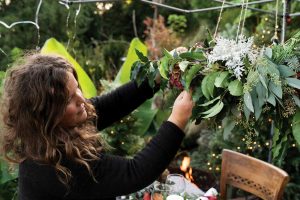 Homemade wreath
It's not just for the door! Wreaths can be hung indoors in windows or used on a table with a candle in the center (make sure it's not too close to the greenery). You can also put a Mason jar with pinecones or ornaments in the middle. Bases can be purchased from craft stores and reused for many years. Similar to the chandelier, collect and attach greenery artfully to the base.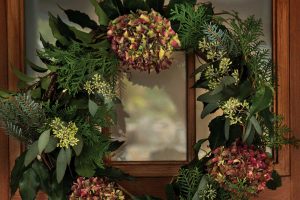 DIY Christmas crackers
Cracker snaps can be purchased from craft stores, but all other materials can be upcycled, such as toilet paper rolls (for support), craft paper (for covering the rolls), and ribbons or twine (for ties). Consider homemade or bulk goodies for the surprises inside.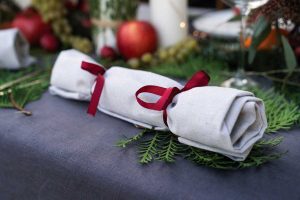 Upcycled mini Christmas snowflakes
Use homemade playdough to create Christmas snowflakes or other holiday décor with your favorite mini cookie cutters. Paint them, and add twine or greenery for a beautiful, seasonal touch.
Nature-inspired centerpiece
The star of any tablescape is its centerpiece. Start with a base, such as a tray, for an elegant look or a wooden crate for a rustic, natural look. Fill it with your choice of decorations, such as vases or jars filled with pinecones or ornaments; holly, DIY dried oranges or cranberries; cedar boughs and/or other greenery; candles; and even mini living evergreen trees. Alternatively, use greenery to create a garland table runner along the length of the table.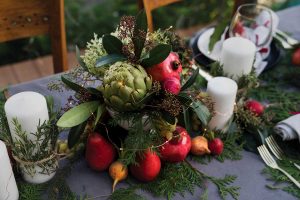 Place settings
Homemade placemats can be made from a wide variety of materials, such as linen fabric, wooden plaques, greenery, burlap, cork, or even sturdy paper decorated with stamps. Consider involving the kids! Then complete the look by adding plates with a cloth napkin in the center topped with a pinecone, cinnamon stick and dried orange, or piece of holly.