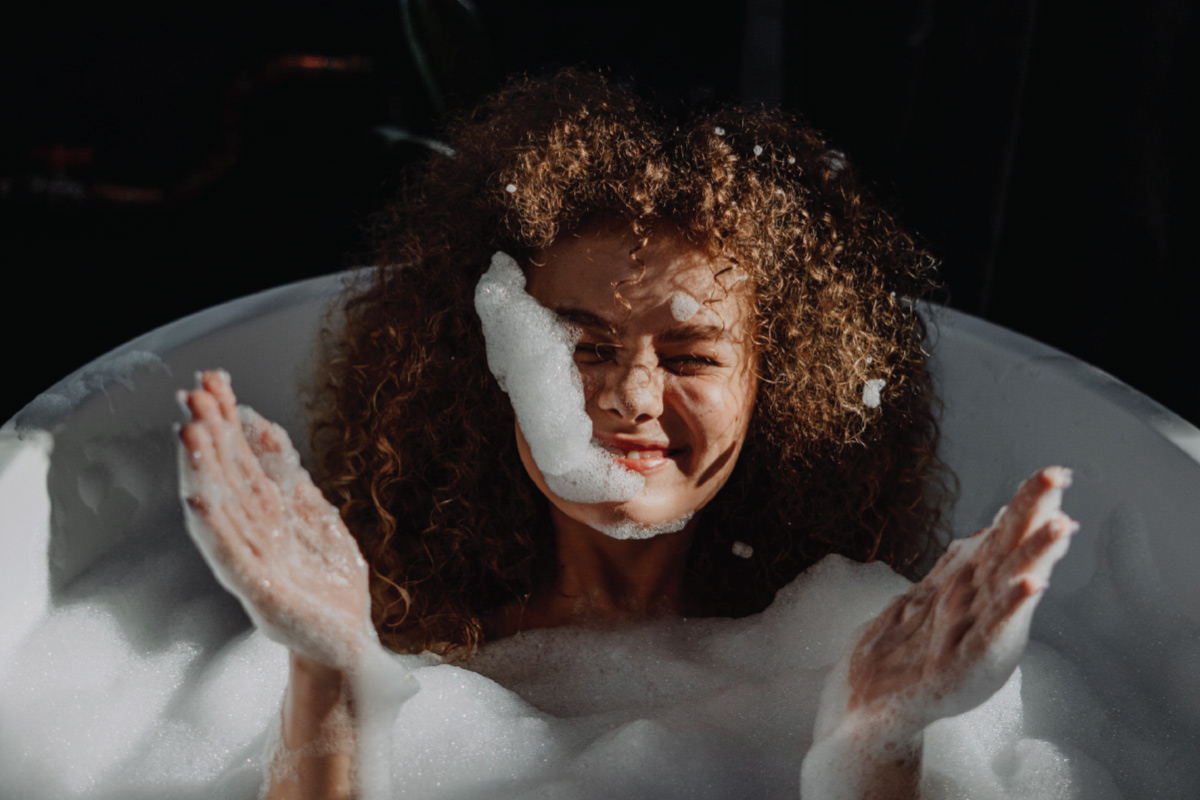 "New year, new you" has had its day. This year, it's all about embracing the real you, making health-conscious decisions, and enhancing your unique natural beauty. Don't believe us? This year's trends may change your mind.
Skinimalism
Skinimalism claims to put an end to the "caked-on makeup look"—and we're here for it! The less-is-more approach is all about letting your natural beauty shine through, which means finding and sticking to a few products that enhance your skin's unique texture.
To streamline your beauty routine, focus on three key steps: cleanse, moisturize, and protect; and consider using multipurpose products like a moisturizer with a built-in serum or sunscreen. While you save your skin from clutter and the potential for overloading on powerful ingredients, your wallet and the environment will benefit too.
Clean and transparent skin care
The modern consumer is increasingly conscious of the ingredients used in their skin care, and beauty brands are following suit. Brands are using the term "clean" to advertise when certain synthetic ingredients found to be damaging to our health or the environment are <not> included in the formula. These ingredients may vary by brand, though they commonly include parabens, sulphates, phthalates, formaldehyde donors, talc, and PTFE (also known as Teflon).
Pro Tip: Question What's Clean

"Clean" may be one of the newest beauty buzz words, but it's important to question what it really means, and understand that it doesn't always mean all-natural. Because there's no standardized definition across the industry, remember to look closely at the label to ensure your products are as clean as you'd like them to be.
Microbiome health
No, we're not talking about your gut (though that's important, too)! This time we're talking about the microscopic world that exists on the surface of your skin. Home to millions of bacteria, viruses, and fungi, the skin microbiota is essential for defending against invading pathogens and supporting a healthy immune system. And just like your gut, keeping it in balance is the key to happy, healthy, and clear skin. This year, it looks like we'll have a little help thanks to innovative formulas aimed at balancing the microbiome, encouraging cell turnover, and protecting against irritants.
Maskne products
No matter how much you replace or wash your mask, it seems maskne (acne triggered by wearing a mask) is inevitable. While masks act as an important protective barrier, they also create friction that can irritate and inflame the skin, and alter the skin's microbiota by trapping warm, moist air beneath. This can lead to breakouts, irritation, and flare-ups of existing conditions.
Thankfully, beauty brands have answered our pimple-faced calls with products designed to naturally soothe and protect mask-ridden skin using anti-inflammatory, antioxidant, antimicrobial, and sebum-regulating botanicals.
Smarter tech gadgets
New high-tech beauty tools are bringing spa-like experiences home, without sacrificing results. Whether it's a microcurrent roller intended to stimulate, tone, and tighten your complexion; an at-home laser hair removal device for a fraction of the cost of professional treatment; or an LED mask designed for reparative red-light therapy—it's never been easier to practice a little self-love.
Elevated hygiene
Washing your hands is one of the best ways to protect your health, but when you're out and about with no soap and water, using too much alcohol-based hand sanitizer can irritate and dry out the skin. This year, expect to see more hand sanitizers packing natural ingredients like lavender, tea tree oil, and eucalyptus to calm and nourish skin without sacrificing antibacterial properties. Oh, and did we mention they smell great, too?
Antibacterial haircare
So, by now we know the importance of sanitizing our hands and resisting the urge to touch our faces … but what about our scalps? With this top of mind, antibacterial haircare has entered the scene with shampoos, conditioners, and hair products specially formulated to remove bacteria and germs to foster a healthy scalp. Look for products with antibacterial ingredients such as coconut oil, manuka honey, and tea tree oil for a natural remedy to mild irritation, redness, and flaking.
Smart scalp care
Scalp care is skin care, and an array of smart new products are being designed to create naturally healthy locks at the source. These include hair supplements boasting natural ingredients like B vitamins, zinc, iron, vitamin D, and omega-3 fatty acids; and scalp massaging devices, which relieve stress, cleanse the scalp, slow hair loss, and even encourage new growth to keep you looking, and feeling, great.
Embracing natural hair
With the increasing popularity of low-maintenance hairstyles, it looks like no-fuss hair may be here to stay. Except this year, haircuts are back and they're bold, aimed at enhancing natural-texture looks. Think retro-inspired curtain bangs, shaggy layers, natural curls, modern takes on the classic bob, and more fringe. Add a chignon bun or a couple of braids and you'll look as though you stepped right off the runway in minutes.
Advanced blue light protection
It's not just your eyes that are feeling the effects of too much screen time. Recent studies have found that exposure to high-energy blue light and the light emitted from smartphones, tablets, and computers can cause oxidative stress, damage skin cells, and lead to the appearance of aging. To combat this, an expanding line of beauty products are experimenting with natural ingredients like algae derivatives, antioxidants, vitamins, botanical extracts, and UV filters.
Going Green
Natural and organic products have certainly taken the beauty industry by storm, but the rise in plant-based products may be more than a trend. The global market value for vegan cosmetics is projected to reach $20.8 billion by 2025, according to Grand View Research.