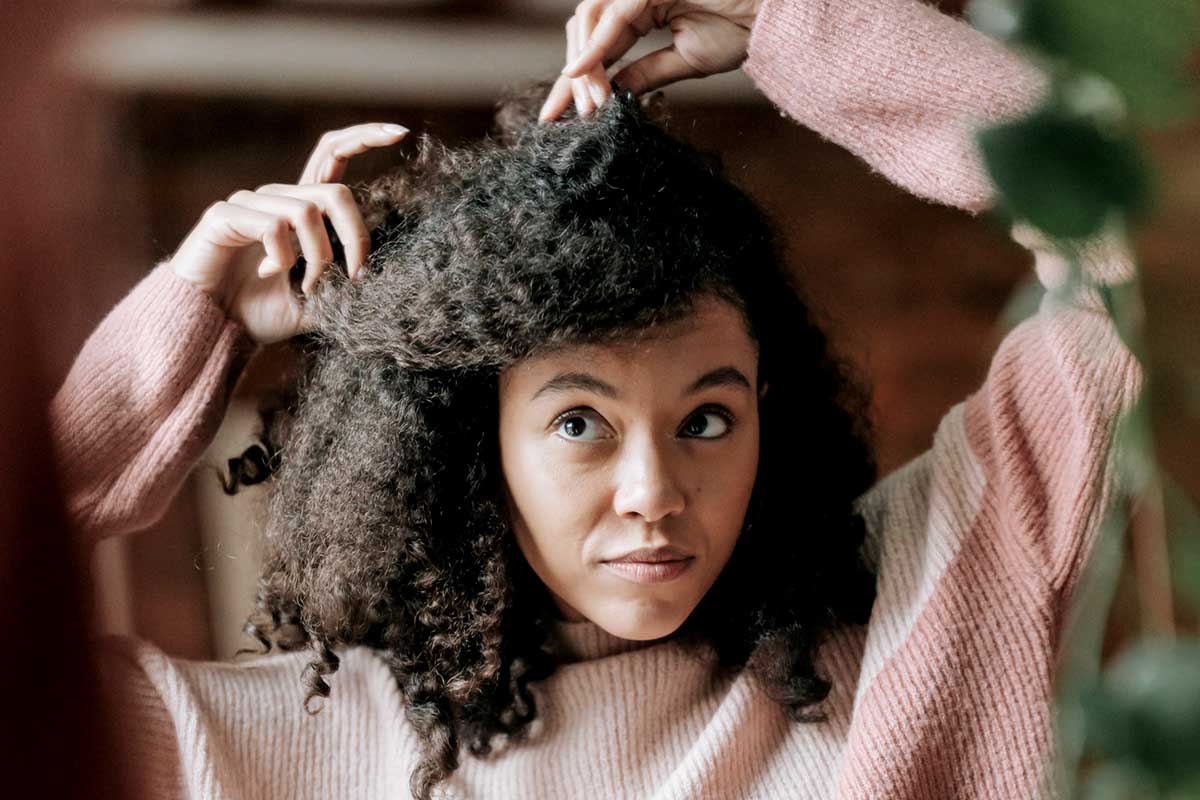 Tired of fighting your hair? Stop trying to coax it into difficult and damaging hairstyles, and put down that flat iron already! It's time to embrace your natural, beautiful hair—exactly as it is. Here's how.
Hair types, explained
Our hair type is determined by our genetics. Way down in our hair follicles, our "curl pattern" influences how our hair will grow.
Do you know your hair type? There is so much hair diversity in the world, but hair can generally be divided into four main categories: straight, wavy, curly, and coily. For their respective subcategories, see "Find your flow" sidebar.
It's okay if you don't fit into one category perfectly—many people don't. And though this system is generally used by hairstylists rather than scientists, it can still be helpful to learn more about how to care for your unique hair.
1. Straight: you have straight hair if you have no natural curl.
2. Wavy: wavy hair has bends in it and can look tousled.
3. Curly: curly hair has definite curls (or loops).
4. Coily: this type of hair has tight coils in an "S" or zigzag shape.
Hair TLC
Now, for the fun part: how to best care for your uniquely beautiful hair!
Straight
Since straight hair can have more natural oil than other hair types, to avoid greasiness, you may wish to shampoo regularly and avoid products that contain heavy oils. (But avoid overdoing the washing, which may cause your scalp to produce excess oils).
Shampoo your scalp, but try to keep conditioner away from your roots to avoid weighing your hair down. Instead, apply conditioner just to the ends.
If you must blow dry, consider partially air drying first to use less heat.
Don't rub your hair with your regular terry-cloth towel! Instead, opt for a microfiber towel to reduce friction.
Wavy
Highlight your natural wave by using a light mousse. This may also help to reduce frizz.
The beloved "beachy waves" trend is made for you! For a mermaid-inspired beachy look, use a salt spray.
As with other hair types, try to avoid heat styling when possible.
Consider avoiding products with sulfates and silicones, as they may weigh down your hair.
Curly
Don't overbrush, as this can harm your curls' definition. Instead, consider detangling with a wide-toothed comb or your fingers while using leave-in conditioner.
Curly hair tends to need more moisture, so only wash when needed. A leave-in conditioner that contains hydrating ingredients like argan oil or glycerin can be helpful.
Consider a silk pillowcase, which can help keep curls moisturized.
Watch videos on styling methods for curly hair, such as "plopping" and "scrunching" techniques.
Use hair mousse or gel meant to maintain healthy-looking curls.
Coily
Coily hair is delicate and should be treated with care. This hair type also requires lots of moisture, such as from deep conditioning masks, butters, and creams.
Your hair may need to be washed once a week or even once every two weeks. You may also prefer a co-wash (using only a conditioner) rather than a shampoo.
Hairstyles that are too tight can damage hair and even lead to hair loss. If you prefer to wear protective hairstyles, such as braids and weaves, make sure they aren't too tight.
Preserve your hair while sleeping, such as by wearing a bonnet or using a silk pillowcase.
Working with—rather than against—your unique hair type can be beneficial in the long run. After all, when you know what your hair needs and learn to treat it properly, it will grow healthier over time.
Combatting hair loss

If you are experiencing hair loss, the first step is to reach out to your health care practitioner. Many conditions, including nutritional deficiencies, can contribute to hair loss, so it's important to get to the root cause.

Helpful natural and lifestyle strategies include the following:

asking your hairstylist for tips and tricks, like styles and cuts that can add volume
eating a healthy and balanced diet, including sufficient amino acids and iron (or supplementing if needed)
washing your hair regularly with a mild shampoo to keep your scalp healthy, following with a nourishing conditioner
styling your hair gently—avoiding tight braids and other styles that pull hair—and refraining from heat styling when possible
Supplements for healthy hair

Certain supplements may help promote strong hair and growth. Always check with your health care practitioner to make sure a supplement is right for you before trying it.

Vitamin D and serum ferritin (a protein that contains iron) levels may be low in people suffering from hair loss. Deficiency can be corrected with supplementation, so if you are losing hair, seek advice from your health care practitioner.
Rosemary oil (Rosmarinus officinalis L.) may help promote hair growth.
Saw palmetto may help with hair regrowth; however, more research is needed.
Although research is still in its infancy, scientists are hopeful that collagen supplements may help promote healthy hair.
Make sure your hairstylist is well versed in treating your unique hair type. Some hairstylists have specialties, so don't be afraid to ask questions and find a professional who can help make your hair the best—and healthiest—it can be!
Hair density refers to the number of hairs we have on our head. We have approximately 80,000 to 120,000 hair strands on our heads, and tend to lose about 100 every day.