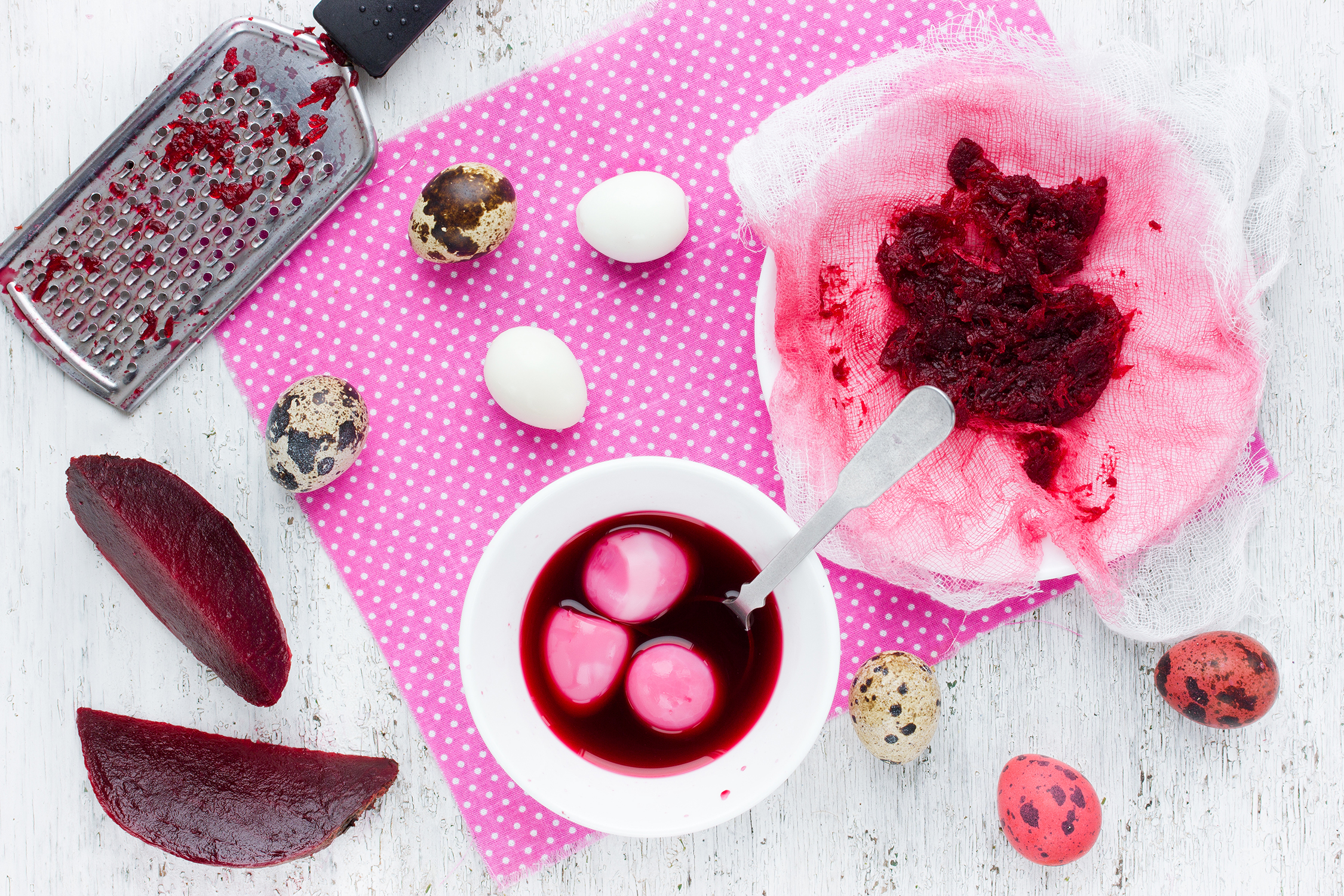 Can't pass up the annual family tradition of coloring eggs for Easter? There's no need to resort to artificial food dyes. Fruits and vegetables contain all of the brilliant hues and shades you could want for naturally beautiful eggs.
You can use everything from coffee to parsley leaves to blueberries to create vibrant, crowd-pleasing shades.
For foolproof hard-cooked eggs:
1. Place your eggs in a saucepan with a pinch of salt, then cover with water. Note: the older the eggs, the easier they will be to peel later.
2. Bring water to a boil, then reduce to a simmer.
3. Simmer eggs (12 to 13 minutes for large eggs, 10 to 12 minutes for medium eggs).
4. Remove pan from heat. Using a slotted spoon, transfer eggs to a bowl of ice water until cooled. Refrigerate until ready to dye or eat.
Dyes to try:
Get creative and experiment! Odds are good you already have several of these foods, liquids and spices on-hand.
• Vegetables: Red onion peel, yellow onion peel, red cabbage, red beets, golden beets, fresh herbs (such as parsley and cilantro), spinach, kale.
• Fruits: Crushed raspberries, crushed blueberries, green apple peels.
• Liquids: Strong-brewed coffee, grape juice, cherry juice, green tea, red tea.
• Spices: Fresh or dried turmeric, paprika.
6 steps to naturally dyed eggs:
1. Add 1 cup of a chopped vegetable or fruit to each 1 cup of water. For example, add 2 cups of chopped purple cabbage to 2 cups of water. For juices/coffee/tea, just use the liquid as the dye; do not add water.
2. Bring to a boil, then reduce heat and simmer for 15 minutes.
3. Remove pan from heat, and let liquid dye cool to room temperature.
4. Pour cooled dye through a strainer and into a bowl to remove any food pieces (or leave food pieces in the liquid for a speckled look).
5. Stir 1 tablespoon of white vinegar into each bowl of dye.
6. Submerge hard-cooked eggs in the dye; refrigerate 12 to 48 hours for the most vibrant colors. Experiment with both white and brown eggs.
SaveSave