Sweet Potato Latkes with Grilled Pineapple Salsa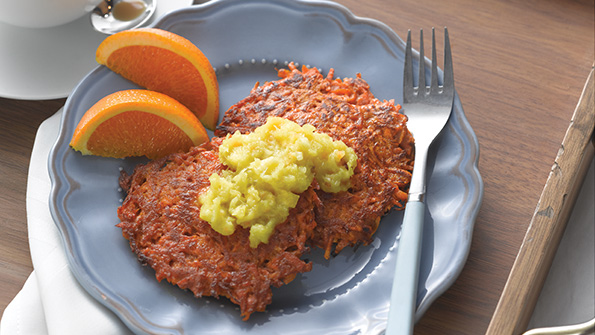 1

pound

sweet potatoes or garnet yams, or a combination

2

large

eggs, beaten

2

tablespoons

all-purpose flour

1

teaspoon

ground cinnamon

1

teaspoon

natural cane sugar

1/2

teaspoon

kosher salt

A couple sprinkles black pepper

1/2-3/4

cup

olive oil

Sour cream

optional

PINEAPPLE SALSA

1

pineapple, skin removed, cut into chunks

1

tiny

habanero pepper, stem and seeds removed
1

pound

sweet potatoes or garnet yams, or a combination

2

large

eggs, beaten

2

tablespoons

all-purpose flour

1

teaspoon

ground cinnamon

1

teaspoon

natural cane sugar

1/2

teaspoon

kosher salt

A couple sprinkles black pepper

1/2-3/4

cup

olive oil

Sour cream

optional

PINEAPPLE SALSA

1

pineapple, skin removed, cut into chunks

1

tiny

habanero pepper, stem and seeds removed

Print Recipe
Make salsa: Roast or grill pineapple until brown. Place charred pineapple, seeded habanero, and a pinch of kosher salt in a blender; puree and set aside.

Peel sweet potatoes or yams and coarsely grate by hand or with a food processor grater. Drain any access liquid with a paper towel or clean dishcloth. Place potatoes in a bowl and mix with beaten eggs, flour, cinnamon, sugar, salt, and pepper.

In a 12-inch or slightly larger nonstick pan, begin to heat olive oil over medium heat. Pat potato mixture into 3-inch round patties, making sure they are well condensed and sticking together.

Place 4 latkes in the pan at a time and fry on each side until brown and crispy. Each family likes their latkes at different consistencies from slightly browned to almost black and very crispy. Note that sugar blackens and burns quickly, so flip the latkes often.

Remove latkes from oil and place on a platter layered with paper towels. Repeat until all latkes are made. Serve, topped with pineapple salsa and a drizzle of sour cream, if desired.