For a fun DIY project, make your own goat cheese with just a few ingredients in about an hour. Once the cheese is made, you can mix in fresh lemon zest, herbes de Provence, dried lavender, or other spices to your taste.
Note: It's important not to use ultrapasteurized milk because it doesn't contain the cultures that acids interact with to make cheese.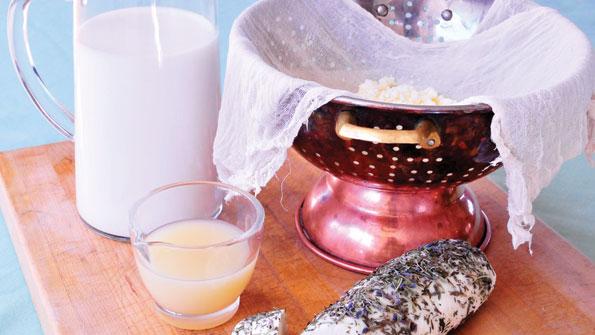 Heat milk slowly until just boiling, stirring frequently to prevent scalding. Add acid; stir gently and remove from heat. Let mixture sit for 10 minutes until curds settle below the liquid (whey).

Pour mixture into a cheesecloth-lined colander to separate curds from whey. Once it's cool enough to handle, use the cloth to squeeze remaining moisture from solids. Discard liquid.

Unwrap cheese and place in a bowl. Stir in salt to taste. Knead by hand until smooth (not grainy); shape into a thick log. To store, cover in waxed paper and then plastic wrap; refrigerate.