Sweet apple cider partners perfectly with fragrant chai-inspired flavors for a delicious and warming beverage sure to spice up any winter picnic!
Keep it spicy!
With age, spices and herbs can lose their flavor, color, and potency. To maximize your herb and spice shelf life, store them in glass containers and avoid keeping them in areas with direct sunlight, heat, and/or moisture.
Typical shelf life

| | |
| --- | --- |
| dried herbs | 1 to 2 years |
| ground and powdered spices | 2 to 3 years |
| whole or unground spices | 4 years |
Chai-Spiced Hot Apple Cider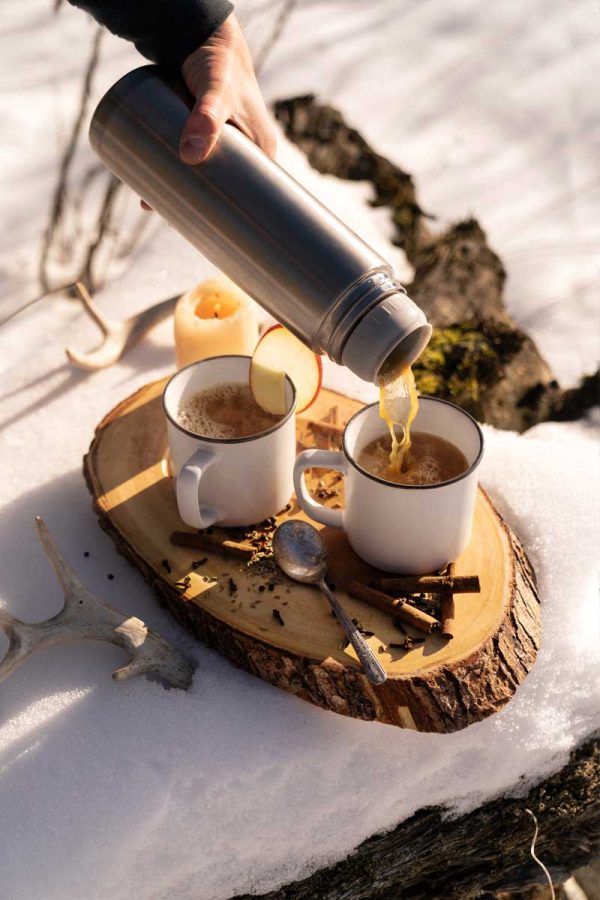 Using mortar and pestle, lightly crush cardamom pods, cloves, and fennel seeds.

In medium saucepan on medium heat, add apple cider, cinnamon, gingerroot, black peppercorns, apple slices, and crushed cardamom pods, cloves, and fennel seeds. Bring to a boil and reduce to a low simmer for 10 minutes. Remove from heat, discard apple slices, and pour apple cider through nut bag or cheesecloth to remove spice remnants. Divide and enjoy!

For a stronger and spicier cider, after discarding apple slices, refrigerate overnight and strain spice remnants before reheating to desired temperature.
Per serving: 132 calories; 1 g protein; 0 g total fat (0 g sat. fat); 41 g total carbohydrates (29 g sugar, 2 g fiber); 108 mg sodium