Makes 3/4 cup | This recipe is incredibly quick and easy. Serve these preserves with cheese and prosciutto as an appetizer, add it to sauces for fish or poultry, or spread on toast. It's also a key ingredient in our recipe for Calimyrna Fig and Arugula Pizza.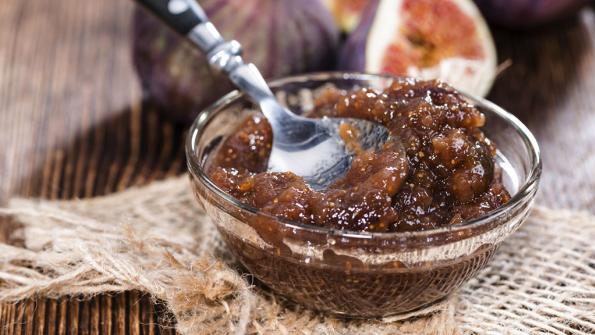 Place chopped figs, apricots, and water in a small saucepan and bring to a boil. Reduce heat to low and simmer until fruit is plump and very soft, about 20 minutes. If needed, add just enough water to keep mixture simmering.

Remove from heat and transfer to a small food processor. Add lemon juice and salt (and port, if using); purée carefully, as the contents are hot. Add water about a teaspoonful at a time until consistency is that of a spreadable paste. Allow to cool to room temperature. Cover and refrigerate up to 1 week.
Nutrition Facts
Apricot-Fig Preserves
Amount Per Serving
Calories 125
% Daily Value*
Sodium 12mg 1%
Total Carbohydrates 20g 7%
Protein 1g 2%
* Percent Daily Values are based on a 2000 calorie diet.
PER SERVING (1 tablespoon): 25 cal, 0g fat (0g mono, 0g poly, 0g sat), 0mg chol, 1g protein, 20g carb, 2g fiber, 12mg sodium
Photo: Thinkstock